Brief description of fine stone concrete pump
Today, Xiaobian wants to work with everyone to understand a new concrete equipment - fine stone concrete pump. Some people will ask, what is the fine stone concrete pump, what are the characteristics, no hurry, I will slowly talk about Xiaobian.
The fine stone concrete pump is an automatic equipment developed for conveying cement fine stone mortar and cement concrete. It is suitable for construction floor pouring, secondary structure column watering, and ordinary building mortar transportation. Its basic working principle is to drive the oil cylinder by the pressure oil generated by the oil pump, so that the cylinder piston rod drives the concrete cylinder piston to push the concrete into the conveying pipeline, and then through the sequential action between the concrete distribution valve and the main cylinder, the concrete is made. The concrete cylinder is continuously sucked from the concrete hopper and transported to the pouring place through the conveying pipe.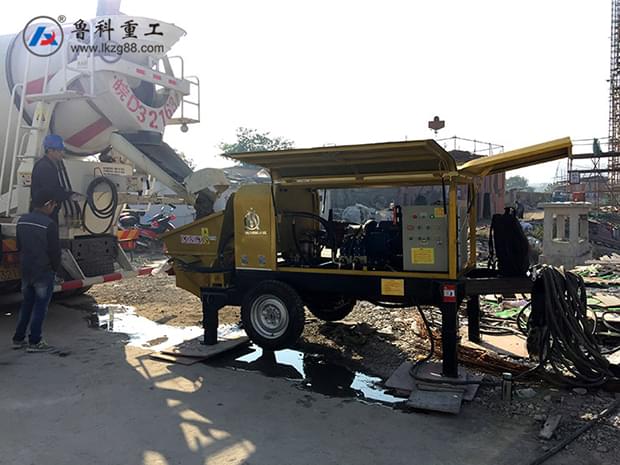 Fine stone concrete pump construction site
So what are the construction properties of the fine stone concrete pump, and what are the parameters? Here, Xiaobian uses Luke Fine Stone Concrete Pump to analyze this problem.
(1) The power consumption of the Luke fine stone concrete pump pump is 45kw, and the construction power is large.
(3) The concrete pump pump has high configuration, full hydraulic control, automatic lubrication pump design, wireless remote control operation, stable performance, low failure rate and long service life.
(4) The pump is affordable.
(5) The pumping pressure is high, and the pumping head is 15 meters away.
(7) It is used for the construction of column casting, with good continuity, and can transport 40 square meters in one hour.
After the above introduction, I believe that everyone has a certain understanding of the fine stone concrete pump. In the future, it will also avoid some problems, which will bring more benefits.
Fine stone concrete pump construction site
Nanjing Luke Heavy Industry mainly produces fine stone concrete pumps, fine stone mortar conveying pumps, fine stone pumps, etc.; integrates research and development, production, sales and service; the factory has strong technical force, complete equipment, complete testing means and stable equipment performance. Imported accessories, low failure rate and low maintenance costs. The company promises to respond to after-sales, free installation and commissioning, free technical training, and lifetime maintenance of equipment within 2 hours. Welcome friends from all over the country to come to visit and negotiate.
Http://news.chinawj.com.cn
Non Woven Airline Socks,Airline Disposable Socks,Socks For Airplane,Customised Men Custom Sock
Shaoxing Gold Sun Textile Co., Ltd. , https://www.sx-goldsun.com