Baidu Smart City's latest achievements debut at the Digital China Construction Summit
From April 22nd to 24th, the first Digital China Construction Summit will be held in Fuzhou, Fujian Province. As an important part of the summit, the first Digital China Construction Summit Achievement Exhibition was the first to be held. The exhibition focused on the digital China since the 18th National Congress, especially the latest and hottest frontiers such as artificial intelligence, cloud computing, big data and robotics. Technological Achievements.
As a leading enterprise in artificial intelligence in China, Baidu AI Commercialization Department has participated in the high-tech products such as AICity's latest application, face recognition gates and Internet of Things technology applications. On the opening day, Baidu showroom gathered a group of visitors, stopped to feel the shock of artificial intelligence innovation application, and intuitively experienced the convenience brought by digital technology.
AICity lights up smart life
The outbreak of a new round of technological revolution, represented by artificial intelligence, big data, cloud computing, and the Internet of Things, has not only spawned the digital economy, but also helped the traditional industry to carry out a comprehensive digital transformation and achieve better innovation and development. Baidu is committed to the commercialization of artificial intelligence, and closely integrates artificial intelligence with various scenes of life to help the intelligent transformation of the entire society.
At the Digital China Construction Summit Achievement Exhibition, the commercial application of Baidu AICity has received extensive attention from the industry. This is the first time that Baidu has publicly demonstrated its latest achievements since it reached a cooperation with the Great Wall of China. In March of this year, Baidu and China Great Wall reached a strategic cooperation, announced the joint creation of the first self-controllable artificial intelligence platform in China, and adopted a new generation of artificial intelligence and big data technology to provide AICity with a new complete solution to promote key industries. Industrial upgrading.
This time, Baidu focused on AICity's latest applications in smart transportation, smart government, smart park, safe city, smart logistics, smart healthcare, smart education, etc., to provide citizens with safer , more effective and more comprehensive artificial intelligence innovation experience. .
At present, the construction of smart cities has been carried out in many areas at home and abroad, and has achieved a series of results. "Using technology to make the complex world simpler" is Baidu's mission. Baidu should let the public fully understand the convenient and intelligent service experience brought by the smart city, and make the life better because of "AllinAI".
Building Digital China, Sharing Artificial Intelligence Development Dividend
Baidu not only showed industry-leading solutions, but also helped the government and enterprises to make intelligent changes. It also exhibited the results of heavy-duty artificial intelligence applications in cooperation with the Great Wall of China. With the support of China's electronically controllable "PK" system (Feiteng CPU + Kirin operating system) as the supporting platform, the artificial intelligence innovation application supported by intrinsic safety will effectively serve the party and government and the important industries of the national economy in the future. Intelligent development has accumulated new momentum.
It is worth noting that Baidu AICITY smart city partner - Internet of Things technology service company SENSORO (Beijing Shengzhe Technology Co., Ltd.) with its end-to-end IoT fire warning program appeared in the Baidu Smart City exhibition area. Here, the audience saw the world's smallest dual-channel LPWAN chip, sensor, IoT base station and cloud products independently researched and developed by Baidu's SENSORO, and how the Internet of Things monitors the security risks that people cannot see in real time. Baidu and SENSORO will conduct more in-depth exploration in the field of intelligence.
In the Baidu exhibition hall, there are always a lot of visitors gathered in front of the face recognition gates, and the audience who come to experience the face recognition gates are endless. According to the staff, Baidu face recognition gates have been applied in Wuzhen and Capital Airport to provide passengers with better and more convenient smart travel services.
Gates, traffic, banks and mobile phones are four important scenarios for the development of face recognition, as well as important user scenarios. Baidu's face recognition has important technical advantages in the 1:N high-precision recognition, and will make the artificial intelligence technology dividend really play through continuous cooperation and empowerment.
Thanks to the support of national artificial intelligence, the Internet of Things and other related policies and the breakthrough of outstanding innovative enterprises, China is welcoming a period of new technological revolution. As a leader in emerging technologies such as artificial intelligence, Baidu will continue to focus on the commercialization of artificial intelligence, promote the interoperability of objects and industries, and contribute to the construction of "Digital China".
Worldhawk can provide precision filters for many applications, including Interference Filter, Cut Off Filters, UV Bandpass Filter, Narrow Bandpass Filter, ND Filter, Negative Filter or Notch Filters, Color Glass Filter.


Optical Filters are used to selectively transmit or reject a wavelength or range of wavelengths. Optical Filters are used in applications such as fluorescence microscopy, clinical chemistry, spectroscopy, or machine vision inspection. Optical Filters are ideal for life science, imaging, industrial, or defense industries.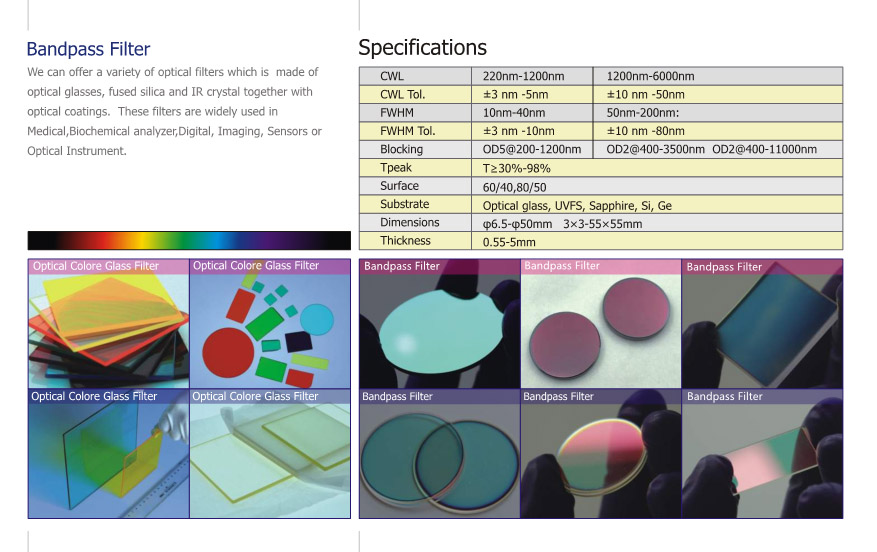 Dichroic Filter,Optical Dichroic Filter,Custom Dichroic Filter,Custom Optical Dichroic Filter
ChangChun Worldhawk Optics Co.,Ltd , https://www.worldhawk-optics.com